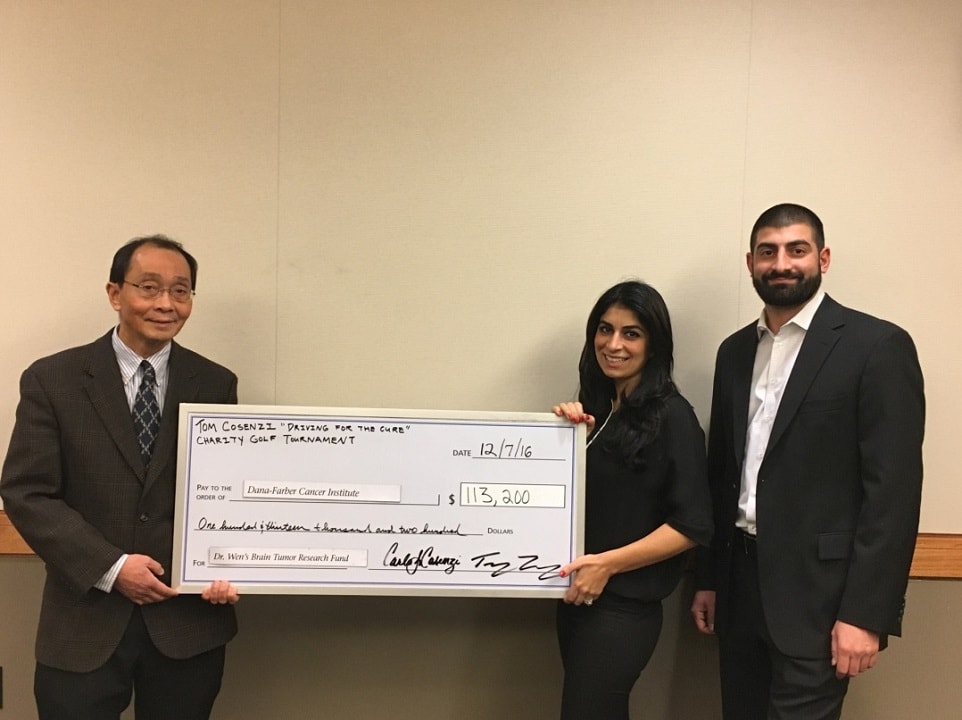 The Tom Cosenzi Driving for the Cure Charity Golf Tournament was started by Carla and Tommy Cosenzi to honor the legacy of their father, Tom Cosenzi, who passed away from a glioblastoma in 2009 and dreamed of a cure for brain cancer. As the co-presidents of the TommyCar Auto Group, Carla and Tommy have made this tournament a flagship philanthropic event in the Western New England auto-dealership community.
This year was the largest tournament to date raising a grand total of $113,200 and in total has raised $699,412.50 to support Patrick Wen, MD, and his research colleagues in the Center for Neuro-Oncology at Dana-Farber Cancer Institute. Under the leadership of Drs. Patrick Wen and David Reardon, Dana-Farber investigators are working to increase their understanding of brain and central nervous system tumors and to translate these findings into novel therapies for patients.
The 8th annual golf tournament was played at Crestview Country Club and Oak Ridge Golf Club followed by a dinner at Chez Josef where more than 350 guests attended. The dinner featured a performance by Noah Lis from The Voice, an appearance by Host and DJ from Rock 102 Steve Nagle, and a heartfelt speech from Jimmy Fund advocate Paul Lincoln, who is a brain tumor survivor. The event featured a raffle, both live and silent auctions along with the event's Presenting Sponsor, Hartford Springfield Auto Auction.
"By participating as a sponsor, a golfer, a donor, or a volunteer, your generosity and support for our tournament is truly making the difference that we are striving for," said Carla Cosenzi. "We are extremely proud to be able to support Dana-Farber's world-class researcher's work to reduce and ultimately eliminate the burden of cancer. Your participation is a crucial part of achieving these goals."
Visit TomCosenziDrivingForTheCure.com for information about the 2017 tournament which will mark the 9th year.